The Indian Health Service Great Plains Area is pleased to announce several new leaders at the Area Office and service units. Congratulations to these outstanding professionals on their new positions. They possess a wealth of knowledge and experience, and they have all demonstrated dedication to public service and the communities we serve. I look forward to working closely with each of them as we carry out the IHS mission.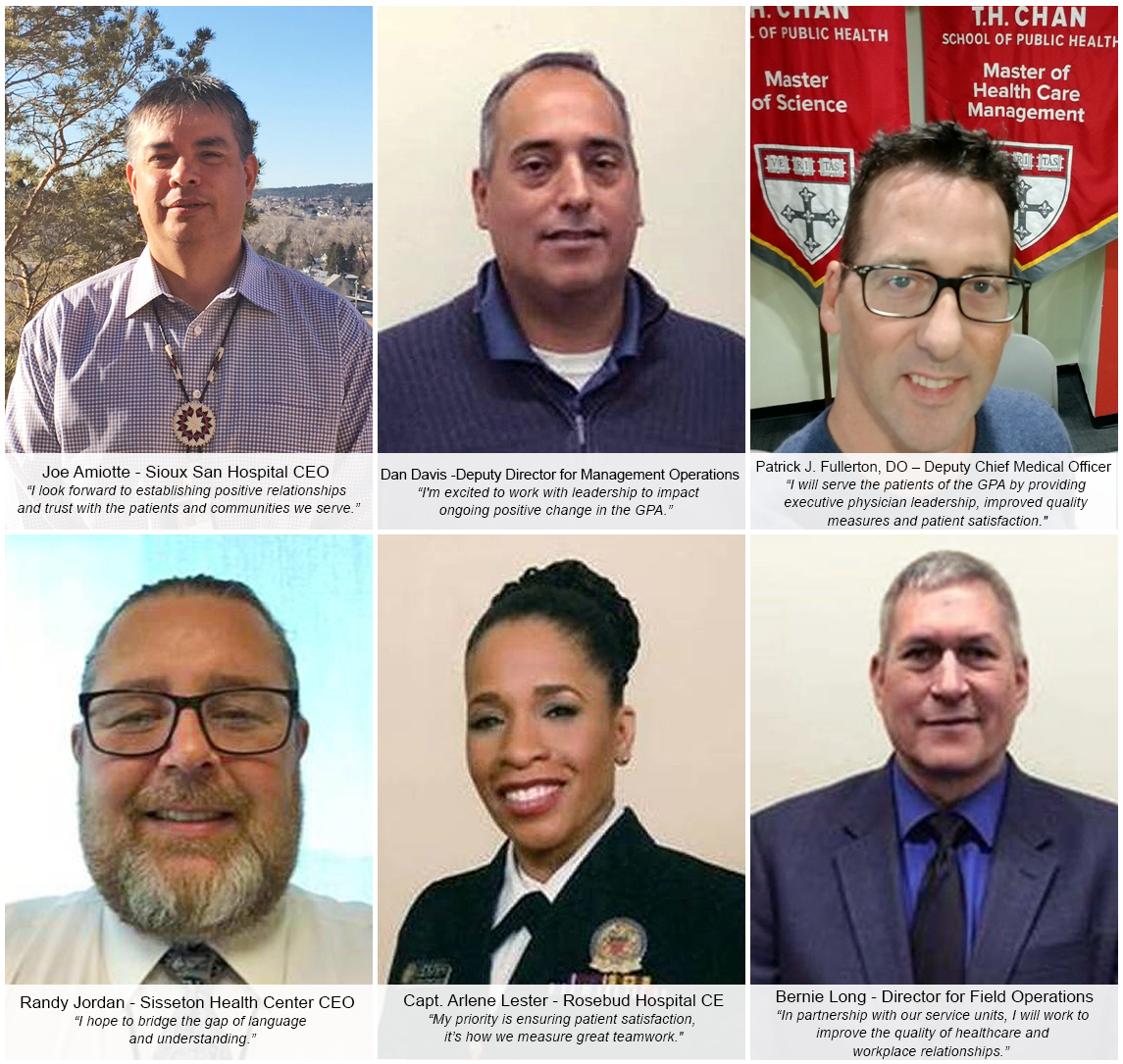 Mr. Dan Davis, an enrolled member of the Turtle Mountain Band of Chippewa, has been selected as the new Great Plains Area deputy director for management operations, often referred to as the executive officer. In this role, Mr. Davis is one of the principal advisors to the area director on matters of administration and will be supervising the departments of Finance, Acquisitions, Information Technology, Property, Equal Employment Opportunity, Business Office, and Office of Environmental Health and Engineering (OEHE). Dan grew up in Belcourt, North Dakota, on the Turtle Mountain Indian Reservation. He graduated from Turtle Mountain Community College in 1994 and North Dakota State University with a Bachelor's degree in Civil Engineering in 1998. Mr. Davis previously worked in Sanitation Facilities Construction, Facilities Management and as the OEHE director.
Mr. Bernie Long, an enrolled member of the Lower Brule Sioux Tribe, has been selected as the new Great Plains Area deputy director for field operations. In this role, Mr. Long will oversee six hospitals, five clinics, and the Great Plains Youth Regional Treatment Center. He recently retired as a commander from the U.S. Public Health Service Commissioned Corps with over 34 years of service. He was previously the CEO of the Ft. Thompson Health Center on the Crow Creek Reservation in South Dakota. Mr. Long graduated from the University of North Dakota's Physical Therapy program and the Indians into Medicine (INMED) in 1983 and earned his Master of Arts in Organizational Management from Ashford University. Mr. Long began his career with the White Mountain Apache Reservation in 1983. In 1986 he transferred to Pine Ridge, South Dakota, where he served as the chief of physical therapy service and the Aberdeen Area gerontological program officer. He was also stationed in the Billings Area from 1995 to 1998 but has served the Great Plains Area IHS for over 20 years.
Dr. Patrick J. Fullerton is the new Great Plains Area deputy chief medical officer. In this role, he will provide technical leadership and guidance to facility clinical directors and clinical staff in the region. He previously served as chief of emergency medicine at the IHS Pine Ridge Hospital. Dr. Fullerton holds a Doctor of Osteopathic Medicine from Nova Southeastern University and is board certified in family practice with the American College of Osteopathic Family Practitioners and board eligible in emergency medicine with the American Academy of Emergency Physicians. He has over 17 years of progressive healthcare management experience. He also served as a U.S. Army combat medic and U.S. Army and Navy medical officer. Dr. Fullerton will graduate from Harvard University with a Master in Health Care Management degree in May 2018.
Capt. Arlene Lester is the new Rosebud Hospital CEO. She is an Alpha Omega Merit Award recipient of the historic Meharry Medical College, where she received her Doctor of Dental Surgery degree, and holds a Master of Public Health from the Rollins School of Public Health at Emory University. Before accepting this role, Capt. Lester had worked for the Department of Health and Human Services since 1999. During a postdoctoral residency at the Centers for Disease Control and Prevention (CDC), she researched the capacity of state oral health programs to meet population needs, and mandatory screening policies to aid early detection of oral disease among children attending public schools.
Joe Amiotte, an enrolled member of the Oglala Sioux Tribe, is the new CEO of the Sioux San Hospital. Joe has spent his 19 years with IHS working in the Office of Environmental Health and Engineering in Pine Ridge, South Dakota, Spokane, Washington, and Billings, Montana. He had been the director of OEHE in the Billings Area since January 2014. During his time in the Billings Area Office, he was an associate area director and spent 2016 as the acting CEO of the Wind River Service Unit in Wyoming. Joe has a bachelor's degree in biology from Black Hills State University, a Master of Science in environmental health from East Carolina University, and most recently spent two years working on a Ph.D. in microbiology at Montana State University.
Randy Jordan, an enrolled member of the Sisseton-Wahpeton Oyate, is the new Sisseton Health Center CEO. He spent six years in the U.S. Naval Reserve and has a Bachelor of Science degree in business accounting from Northern State University in Aberdeen, South Dakota. Randy started his IHS career in 1989 as a supervisory accountant in the area Finance Department. In 1998 he transferred to Cass Lake hospital as a budget analyst. In 2005 he was the Rosebud Hospital's administrative officer. Randy accepted the administrative officer position at Ft. Thompson health center in 2010 and the CEO position at Lower Brule health center in 2011. In 2013 he was selected as the CEO at Albuquerque health center. During his career, he has worked at seven different service units and most recently held the position of Great Plains Area deputy finance officer.
Please join me in welcoming these leaders to their new positions. The Great Plains Area works in conjunction with tribes to provide health care to approximately 130,000 Native Americans located in North Dakota, South Dakota, Nebraska, and Iowa.
Related content:
Rosebud IHS Provides Quality Care and Community Blog
Indian Health Service Welcomes New Chief Medical Officer Blog