For the second year in a row, IHS was awarded first place in the security awareness newsletter contest at the annual Federal Information Systems Security Educators' Association (FISSEA) conference. Hosted by the National Institute of Standards & Technology (NIST), FISSEA is an organization run by and for information security professionals who assist federal agencies in meeting their information security awareness and training responsibilities. Each year this conference recognizes federal organizations who have made significant contributions in information security education and training. One way they do this is through contests for the best security awareness submissions in categories like newsletter, poster, video and website. Winners are announced for each category, and the Indian Health Service won the following awards:
2016 Best Security Awareness Newsletter award
2016 Peer Choice - Best Security Awareness Newsletter award
2016 Peer Choice - Security Training award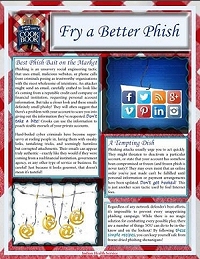 The Division of Information Security created the winning newsletter in October as part of National Cybersecurity Awareness Month. During the month the IHS Chief Information Officer, CDR Mark Rives, sent out weekly newsletters that were designed to help IHS employees recognize their important role in safeguarding the personal information of IHS patients, as well as their own. The winning newsletter focused on a social engineering tactic called phishing, where criminals use email, malicious websites, or phone calls to pose as trustworthy organizations and try to obtain sensitive information. If successful they can use the information for malicious purposes.
The Division of Information Security works diligently to ensure the confidentiality, integrity and availability of protected health information (PHI) and personally identifiable information (PII) of 2.2 million American Indians and Alaska Natives and over 15,000 IHS employees. The Division of Information Security is continually adapting to newly discovered cyber threats to ensure that IHS systems and information are protected.
Robert Collins is the Chief Information Security Officer (CISO) and Director of Information Security for the Indian Health Service. Mr. Collins has over 10 years of experience developing, implementing and reengineering security programs and nine of these directly involved international and domestic health organizations.