The 18th Annual National Council of Urban Indian Health Leadership conference was held at the Viejas Casino & Resort in Alpine, Calif., which is 30 miles east of San Diego on the beautiful lands of the Viejas Band of Kumeyaay Indians.
There was great representation of Indian Health Service staff at the conference including Rear Adm. Sandra Pattea who gave opening remarks and spoke about how IHS is working toward a culture of quality care, leadership, and accountability. I was able to update the attendees about the IHS's Urban Indian Health Program strategy, budget updates, and our work in third party revenue, accreditation, and expanding health information technology.
We were able to host several listening sessions with groups from across the country to hear what their concerns are and how we can work collaboratively to provide solutions. Some of the areas that were brought up included continuing work on health information technology issues related to EHR Meaningful Use application and follow up, 100% FMAP, IHS/VA reimbursement, and how to recruit and retain employees at the urban centers.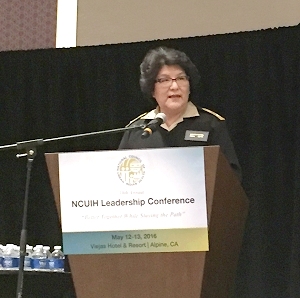 Senior Policy Analyst for External Affairs, Wilbur Woodis, spoke to American Indian homelessness and how IHS is working with the Department of Veterans Affairs and the Substance Abuse and Mental Health Services Administration to bolster and identify area where they can work together to address this growing issue.
CMDR Mark Rives, IHS Chief Information Officer, and CDR Lori Moore, RPMS Investment Manager led a session that addressed "Data & Health Information Technology," specifically both examining the Resource Patient Management System and Electronic Health Record challenges. The presentation briefing offered an overview of how IHS and OIT plan to address the issues, what has been done to date, and to propose strategies to make changes or correct the problems.
Finally, there was a breakout session led by IHS Chief Medical Officer, Dr. Susan Karol, who encouraged urban Indian health programs to consider IPC 2.0 and integrating behavioral health into primary care as part of their program development and service expansion. She covered information regarding quality care and where the agency is headed as far as strategies for improving patient care and the principals of trauma-informed systems of care.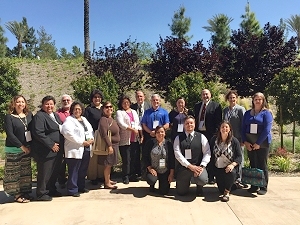 A highlight for many attendees was the short trip into San Diego to visit and tour the San Diego American Indian Health Center. Staff-led tours showed the small but thriving offices dedicated to ambulatory medical, dental, behavioral health, and other related services. They are getting ready to find and move into new offices within the next couple of years and hope to expand both in square footage and services. Another treat was to see the Center's neighboring Youth Program where local Native kids can come together to meet, learn, create video diaries and more. The art exhibition, "We R Urban," was a huge hit.
The opportunity to meet, learn and discuss the issues that urban programs face is important as we work toward improving the health status of our American Indian people.
Sherriann Moore, an enrolled member of the Rosebud "Sicangu" Lakota Tribe in South Dakota, is the Acting Director of the Office of Urban Indian Health Programs. The IHS Office of Urban Indian Health Program supports contracts and grants to programs funded under Title V of the Indian Health Care Improvement Act.