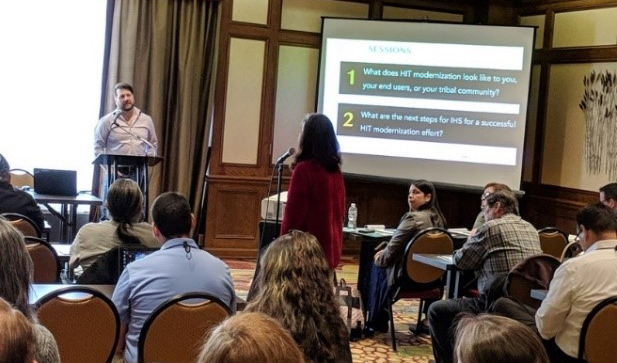 Last fall, the Indian Health Service Office of Information Technology and the Department of Health and Human Services Office of the Chief Technology officer Exit Disclaimer: You Are Leaving www.ihs.gov , launched a Health Information Technology Modernization Research Project. Since it began, the project delivery team has gained valuable insight into the current Resource and Patient Management System electronic health record system.
The IHS currently uses RPMS to manage clinical, financial, and administrative information in the Indian health system. The system was developed in close partnership with the Veterans Health Administration and has been somewhat dependent on the development of the VA health IT system, known as VistA. When the VA announced a decision to replace VistA Exit Disclaimer: You Are Leaving www.ihs.gov , IHS accelerated efforts to re-evaluate its health IT system.
The goal of the project is to identify and understand the perspectives and challenges to help inform and provide alternatives for achieving modernization of health information technologies related to electronic health records. The project team is comprised of subject matter experts informed by tribal leadership. We are evaluating the RPMS EHR system through multiple approaches, including quantitative, qualitative, and literature review methods. This work is designed to identify and evaluate health IT solutions in order to provide guidance on alternatives and next steps in the modernization initiative.
Preliminary findings demonstrate that the IHS health IT system involves a complex ecosystem of human interactions, workflows, and systems of practice in a clinical environment unique to the 400 sites that constitute the Indian health system. IHS personnel have a high interest in team-based care, as well as a commitment to community-oriented primary care and the patient-centered medical home . IHS patients require access to their health information, the ability to share these records with their providers, and the tools to understand how this information can be used enable patients and their families to participate in their own healthcare.
PROJECT ACCOMPLISHMENTS & HIGHLIGHTS
The IHS is committed to seeking input from tribes, tribal organizations, and urban Indian organizations as decisions are made about implementation of the health IT modernization strategy. The IHS will continue to keep consultation and confer openly on this topic to receive input throughout the various stages of the project.
Since October 2018 the project team has:
completed 15 site visits across the Indian health system;
participated in numerous conferences and meetings across Indian Country;
participated in one-on-one interviews and listening sessions with tribal communities;
conducted the pilot for Healthcare Information and Management Systems Society, Electronic Medical Record Adoption Model and Outpatient Electronic Medical Record Adoption Model assessments at seven IHS sites;
established a technical advisory committee with several key participants from academia, government, and healthcare industry, and
established a legacy assessment team fully engaged, actively understanding RPMS architecture, including a platform walk-through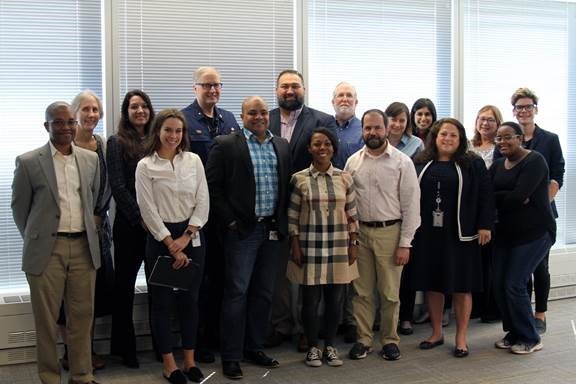 WHAT TO LOOK FOR NEXT
From the start, the IHS Health IT Modernization Project has focused on the needs of IHS patients and caregivers. At this time, multiple working groups are collaborating their research into a final assessment. An assessment of alternatives will then directly evaluate different modernization strategies and approaches. Subsequently, a multi-stakeholder technical advisory committee will make final recommendations to inform key decision makers. A community of practices group is currently working to identify and align existing IHS health IT efforts to establish a model for personal and professional career development in IHS health IT.
As we look towards the development of a next-level health information system, the focus is on the development of clinical systems that reduce the fragmentation patients experience in their health care. Advanced software with thoughtful user interfaces and automation can reduce clinician administrative burden, highlight "the patient's story," and provide clinical decision support that helps inform, instruct, and educate health workers on the latest guidelines and treatments.
Ultimately, American Indian and Alaska Native communities deserve the finest health information technology system available to improve their quality of health care, be informed about current medical trends, and to embrace best practices.
The IHS Health IT Modernization Project has the opportunity to make medicine more human, more patient-centered, and more community-focused. We are embracing that opportunity!
Related content:
IHS updates Congress on progress in improving services and strengthening systems based on GAO recommendations
IHS and HHS Launch a Health Information Technology Modernization Research Project