Community Health Representatives (CHRs) are vital members of the health care team. At IHS, there are more than 1,600 CHRs across the country. They are members of the community, who serve as advocates, are familiar with the dialects and the unique cultural aspects of their patient's lives, and know specific tribal health care needs. CHRs have contributed to lowering mortality rates through providing education and reducing tribal health expenses.
The Community Health Representative Program was implemented in 1988 to improve the health knowledge, attitudes and practices of American Indian and Alaska Native (AI/AN) people by promoting, supporting, and assisting federal and Tribal CHR Programs in delivering a comprehensive health care program. The efforts of CHR program staff have produced an American Indian and Alaska Native health service delivery system, which provides for follow-up and continued contact with the health care delivery system at the community level, thereby meeting the most basic needs of the tribal populations. The goal of the CHR Program is to address health care needs through the provision of community-oriented primary care services, including traditional American Indian and Alaska Native concepts in multiple' settings, utilizing community-based, well-trained, medically-guided paraprofessional health care workers.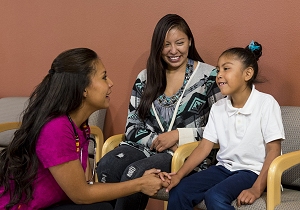 CHRs are a role model for the community; they are the ones people can go to when they need someone to advocate their needs, provide guidance and help. Typical CHR duties may include the following:
Visit clients in the home and refer them to an appropriate facility
Explain available health programs, policies and procedures
Organize community health promotion and disease prevention such as immunizations, well-baby clinics, safety in the home, and medication usage and storage
Offer transportation to health facilities
Educate clients on behavior health topics such as alcohol use, smoking cessation, healthy eating habits or hygiene
Serve as a health advocate
CHRs are valuable and needed in tribal communities to provide culturally sensitive care. It is important for the health care provider to note that each tribal community has their own cultural preferences of relationships and roles. They are trained and encouraged to use the language of the patient, involve the family and extended family, respect tribal healing ways, support traditional healing by respecting the people's ways and not degrade the beliefs of others and show respect.
In FY 2015 a total of 150,290 patients were referred by the CHR Program to medical staff; nursing; dental; eye; behavioral health; social worker and other Agency programs. Nationwide CHRs conducted 307,998 chronic disease patient care services and made 491,423 client contacts. The top ten CHR chronic disease management client contacts addressed the following health problem codes: Diabetes Mellitus, Nutrition, Cancer, Blood Disorders, Hypertension, Heart, Dialysis, Arthritis, Renal Failure and other chronic conditions such as Respiratory, Mobility and Pain, etc. CHRs have a broad general knowledge base and scope of practice includes over 106 heath problem codes.
Learn more about this important program.