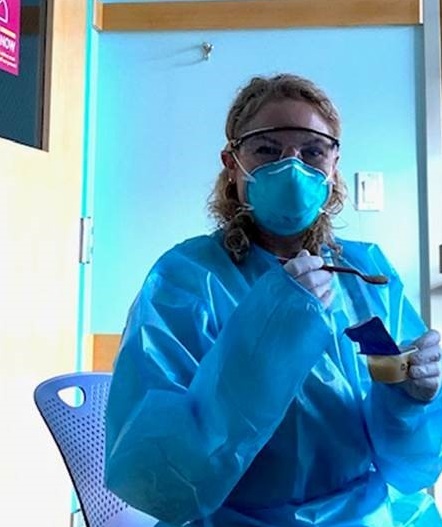 Cmdr. Rutledge works with infant to transition from non-oral to oral feeding.
Speech-Language Pathologists on Neonatal Intensive Care Unit teams possess expertise in diagnostic matters and understanding of typical childhood development such as feeding and swallowing evaluation and treatment, as well as the understanding of typical childhood communication development.
The demand for speech language pathologists continues to grow across the US. Approximately 10 percent of all births Exit Disclaimer: You Are Leaving www.ihs.gov in the United States are pre-term. The survival rate for these infants has increased over the years due to a number of factors including modern medical advancements. SLPs in NICUs may account for some of these improvements. In the first few weeks of life, babies can benefit from an SLP who can assess difficulties with feeding that pre-term babies often experience.
The addition of SLPs to NICU care teams is relatively recent across the U.S. The role in the NICU continues to evolve, but SLPs may be among the first specialists to see a medically-stable neonate. A neonate's ability to gain weight in the days and weeks after being born can depend significantly on the ability to feed orally, and a pathologist can play a key role.
Since newborns can't speak in words, some caregivers can be initially confused when a SLP is included as a part of their child's care team. But SLPs are the specialists most familiar with swallowing disorders that can dramatically impact a newborn's ability to accept food by mouth during the critical early months of childhood development. In some neonatal care units, such as Alaska Native Medical Center, where I serve as an SLP, we are assigned to evaluate every premature infant admitted to the unit for possible feeding difficulties.
All premature infants are at risk of experiencing feeding difficulties. It's not until they reach approximately 40 weeks gestation that all the developmental processes required for typical feeding are fully developed and with children with certain infancy illnesses, it can take even longer. Once the SLP has diagnosed any feeding issues, they will work in conjunction with the rest of the care team to develop a treatment plan. This plan may include goals for the infant to improve their food intake, shorten the length of feeding sessions, or increase the infant's comfort as assessed by various visual or behavioral signals offered during the feeding.
As a SLP who works in a neonatal care setting, I've found that changes in practice due to COVID -19 are essential to protect our patients and caregivers from serious infection. My goal since the onset of this pandemic has been that a chain of communication is established with the on-site medical team to ensure that quality collaborative care is maintained. Some SLPs have been working in units with physical safety precautions while others have had a combination of in-hospital and telemedicine in an effort to reduce the number of providers within the unit while still providing quality care. The pandemic has taught us that it is possible to work remotely and communicate with the onsite health care team to maximize our patient's developmental outcomes. I look forward to our continued work in partnership with the neonatal team as we navigate the challenges presented by COVID-19.
Related Content
IHS Physical Rehabilitation Services
IHS nurse inspired by her experiences on the Pine Ridge Reservation during the COVID-19 pandemic
IHS audiologist wears clear face covering to better communicate with patients