Let me share with you the inspiring story of an IHS leader who is working to combat the nation's opioid epidemic.
Dr. Micah Nix heads the Emergency Department at the Claremore Indian Hospital in Claremore, Oklahoma, a U.S. federal government hospital within the Oklahoma City Area Indian Health Service. The 10-bed emergency room receives more than 18,000 patient visits a year. A member of the Cherokee Nation, Dr. Nix completed medical training at Oklahoma State University College of Osteopathic Medicine and Emergency Medicine residency training at Oklahoma State University Medical Center, and he is also board certified in emergency medicine. He joined IHS in 2014 and benefited from the IHS health professions education scholarship program that helps us train and recruit qualified physicians.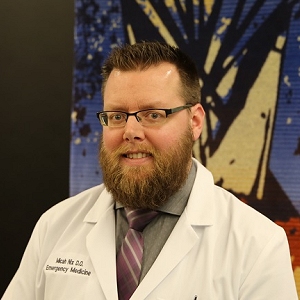 Dr. Nix explains that, as in other emergency rooms, a substantial number of visits to the Claremore Emergency Department involve opioids Exit Disclaimer: You Are Leaving www.ihs.gov , which include prescription painkillers as well as illegal drugs such as heroin.
He spoke recently at a community forum in Tulsa about the effect of opioids on the patients he sees and how his Emergency Department responds to the opioid epidemic by stabilizing patients, preventing opioid abuse through prescription drug monitoring and helping to connect patients to the treatment and counseling resources they need.
"In the emergency room, we have definitely seen the impact of the opioid prescription epidemic," said Dr. Nix. "Helping those patients out, trying to advocate for them, is our job… It is definitely our duty to try to arrange some follow-up: to educate them, as well as to educate the family members who are with them."
Some patients require opioid medications after surgery or an injury, explained Dr. Nix. However, these medications are addictive. Some patients struggle with opioid abuse, and come to emergency rooms with withdrawal symptoms or seeking more drugs. Others arrive in the midst of overdose, which can be deadly without timely treatment.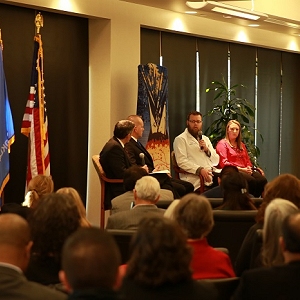 The same issues with opioids affect many of our communities and hospitals around the country. IHS Chief Medical Officer Dr. Susan V. Karol recently wrote a blog post describing one part of the IHS response: equipping Bureau of Indian Affairs law enforcement officers with naloxone for responding to opioid overdose. This is an effort of the IHS Pharmacy Program in collaboration with the IHS Alcohol and Substance Abuse Program (ASAP), which works to reduce alcohol and substance abuse among the American Indian and Alaska Native population. ASAP implements alcohol and substance abuse programs within tribal communities, including emergency, inpatient and outpatient treatment, and rehabilitation services.
I am inspired by Dr. Nix and his commitment to our patients and their families. Every day, IHS health professionals like Dr. Nix make a difference in the lives of patients struggling with opioids, preventing deadly overdoses, saving lives and supporting patients on their path to recovery.
As Deputy Director at IHS Headquarters in the Washington, D.C. area, Ms. Mary Smith holds responsibility for a number of key IHS priorities, providing leadership on the progress IHS has made in behavioral health and native youth initiatives, such as Generation Indigenous Exit Disclaimer: You Are Leaving www.ihs.gov .