June is National Safety Month. Many households have prescription drugs that are expired or unused. These drugs can be dangerous and should be disposed of immediately and appropriately. Proper medication disposal is important from both an environmental and consumer safety standpoint.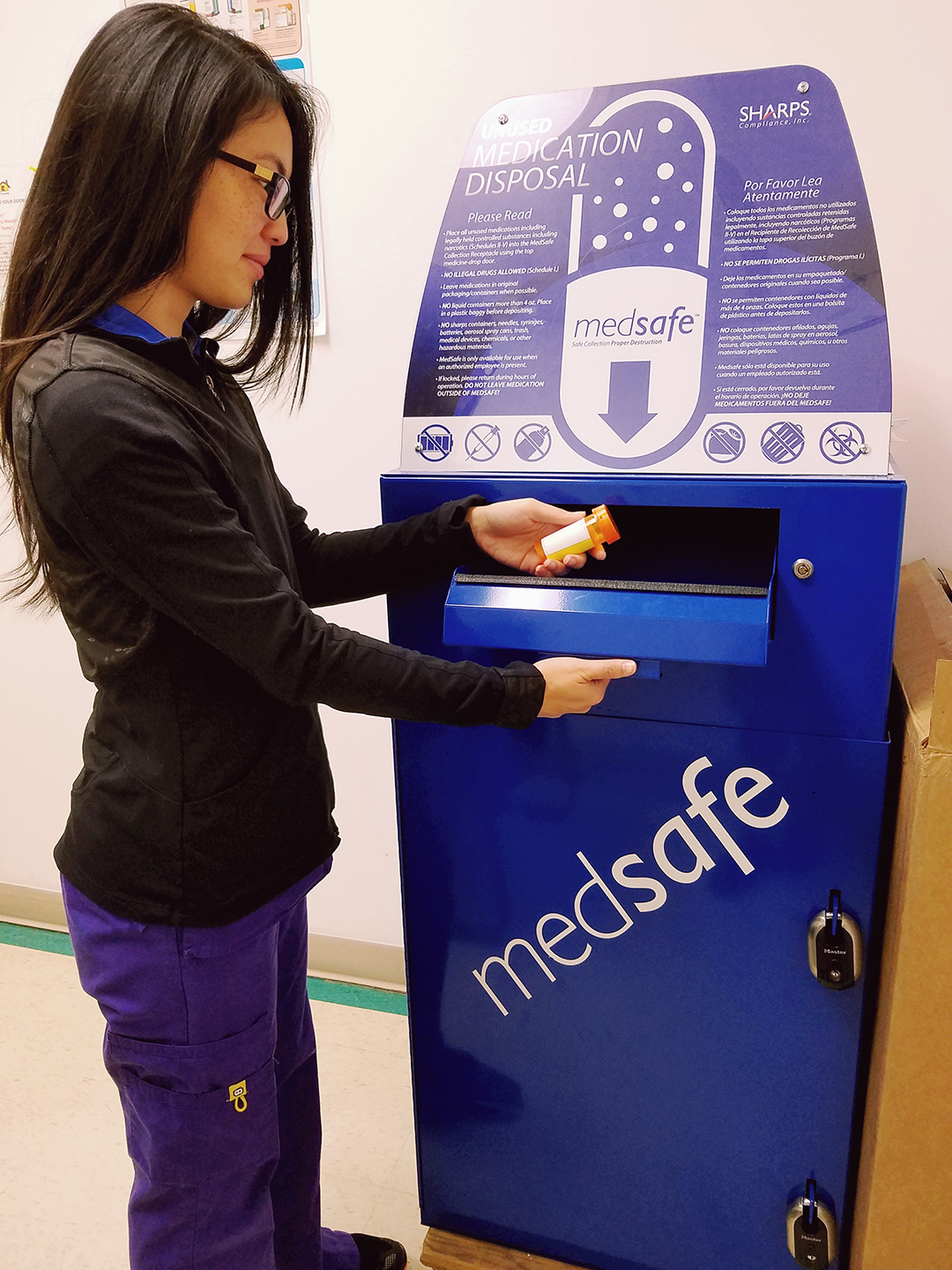 While the country is in the midst of an opioid epidemic, the Indian Health Service is increasing awareness of the dangers of prescription medication abuse by collaborating with the North Dakota Board of Pharmacy and the States Attorney General's office to implement a program that offers a safe medication disposal system. See the list below of tribal and federal sites that are taking advantage of this program by implementing the disposal system:
Tribal sites
Elbowoods Memorial Health Center Exit Disclaimer: You Are Leaving www.ihs.gov in New Town, ND
Spirit Lake Health Center Exit Disclaimer: You Are Leaving www.ihs.gov in Fort Totten, ND
Trenton Community Clinic in Trenton, ND
Federal sites
Quentin N. Burdick Memorial Health Care Facility in Belcourt, ND
Standing Rock IHS Hospital in Fort Yates, ND
Background
The program called the Take Back Program Exit Disclaimer: You Are Leaving www.ihs.gov was launched by the North Dakota Office of the Attorney General in 2009 to provide participating law enforcement agencies in North Dakota with a safe disposal system for unused medications. This program expanded in 2017 to provide the MedSafe® medication disposal system to licensed pharmacies in North Dakota, free of charge.
While on a recent visit to our pharmacy at Quentin N Burdick IHS Memorial Health Care Facility, Mark Hardy, executive director of the ND Board of Pharmacy stated that "this collaboration is exciting and is an important step in ensuring that safe medication disposal is available to all communities in North Dakota, regardless of location or state licensure status." He also said they are eager to see where this initial coordinated effort will take them.
Benefits
The user-friendly and environmentally safe medication disposal system consists of a secure metal receptacle container with double liners contained inside the outer shell. Patients place their medications for disposal in the metal receptacle. When the liner is full, the system is simply opened by two pharmacists, the liner is sealed per manufacturer instructions, and a pre-printed return label is placed on the box for shipping to a disposal facility.
I was also recently able to meet with Attorney General Wayne Stenehjem, and he talked about the success of the program stating that "the initiation of the MedSafe® disposal program has had overwhelming success in North Dakota and is well received by pharmacies, law enforcement, and patients alike." Attorney General Stenehjem said he is hopeful that similar programs and collaboration can be replicated in additional states to provide these services to patients across the country.
We implemented a medication disposal system at the Belcourt Service Unit in 2017, and we have seen a huge benefit to our community and our patients. Patients have brought in a variety of medications for many reasons such as having discontinued medication or medications from deceased loved ones, and pills that are no longer needed. The patients appreciate that there is an easy way to make sure that dangerous medications stay out of the reach of family members and pets while keeping pharmaceutical waste out of the local landfill.
Previously, pharmacies were very limited in what they could do to help patients dispose of unused or unwanted medications. Providing patients increased access to medication disposal services is one of many strategies being used by IHS sites to combat the epidemic. This is also one example of ways that our Indian health system can work with external entities to improve targeted opioid response.
Resources
Please visit the IHS National Committee on Heroin, Opioids, and Pain Efforts (HOPE Committee) disposal website for more information on ways to dispose of unwanted medication.
Related Content:
IHS Efforts on Opioid Crisis Highlighted During Senate Committee Hearing
International Overdose Awareness Day
Drug Take-Back Day at PIMC