Did you know that environmental health is an important part of the IHS mission? IHS is tasked with identifying the need for sanitation facilities, prioritizing projects to match available appropriated funding, and constructing those facilities and other disease prevention infrastructure such as potable water and waste disposal facilities for American Indian and Alaska Native communities.
The IHS Office of Environmental Health and Engineering recently announced two awardees, IHS employees who went above and beyond to serve American Indian communities. CDR Mike Reed is Environmental Health Specialist of 2016 and LCDR Ryan Clapp is the Engineer of 2016.
Annually the Division of Environmental Health Services recognizes the Environmental Health Specialist of the Year and the Division of Sanitation Facility Construction recognizes the Engineer of the Year.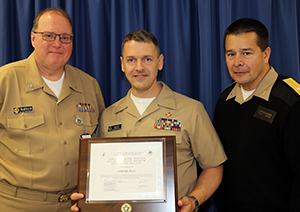 CDR Mike Reed, District Environmental Health Officer, Sioux City District Office, is the Environmental Health Specialist of 2016.
The Division of Environmental Health Services has recognized an outstanding Environmental Health Specialist of the Year annually since 1993. The award is given to the Environmental Health Specialist representing the DEHS with distinction and, through superior performance, positively impacting the health outcomes of American Indians and Alaskan Natives. Commissioned Corps Officers, Civil Service, tribal employees serving in IHS funded positions, or IHS staff on detail to a tribal organization are eligible.
A few examples of how CDR Reed applied expertise and innovative solutions to prevent health problems in 2016 include:
CDR Reed collaborated with tribal, state, and Service Unit partners to assure mission needs were met and is viewed as a trusted professional by his peers and the population he unselfishly serves.
LCDR Ryan Clapp is the SFC Engineer of 2016.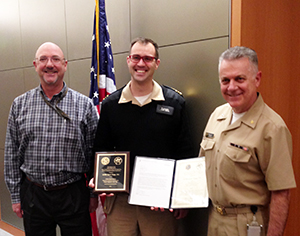 This award, established in 1990, recognizes SFC engineers in the early stages of their career that have demonstrated exemplary work, as evidenced by specific engineering accomplishments.
LCDR Clapp received this award in recognition of his technical expertise, his cooperative attitude, and his continued service to the people of the Navajo Nation by providing access to sanitation facilities that improve quality of life and protect public health. In 2016, LCDR Clapp completed work on six major construction projects that helped provide or maintain access to safe drinking water at over 890 Nation homes. He was a leader for the Navajo Area's development of electronic as-built construction drawings that improved work efficiency and communication with Nation officials.
In addition, when key staff members transferred out of the Area, LCDR Clapp volunteered to temporarily accept responsibility for office management and supervision of five engineering technicians and one administrative assistant. Despite these personnel challenges, he was able to accelerate construction expenditures for the office while continuing to effectively manage his own construction project workload.
Gary J. Hartz, P.E. leads IHS efforts to provide functional, well maintained health care facilities and staff housing, technical and financial assistance to Tribes on safe water and wastewater systems and a broad range of environmental health and injury prevention activities.
Related Content:
IHS Engineers Recognized at Public Health Service Awards Ceremony
Public and Environmental Health Improves with the First Vacuum Sewer System on the Navajo Nation