The Indian Health Service announced the formation of a COVID-19 Critical Care Response Team to provide deployable resources to augment urgent lifesaving medical care to COVID-19 patients admitted to IHS or tribal hospital emergency department or inpatient settings. IHS federally and tribally managed hospitals serve some of the most rural remote areas in the nation, which creates a number challenges in recruiting, developing, and retaining a dedicated, competent, and caring workforce. The much needed addition of expert critical care support assists IHS hospitals in managing the surge in critically ill patients resulting from the pandemic and provides our most vulnerable patients the greatest chance of survival. In the event of an urgent need, the CCRT can rapidly mobilize, usually as soon as within 24-48 hours of the decision to deploy the team.
On August 3, the CCRT began a 16-day on-site deployment to the Claremore Indian Hospital in Oklahoma to provide staff with hands-on clinical education and training to staff in the delivery of care for critically ill COVID-19 patients. The team consisted of two registered nurses, a respiratory therapist, and a physician with extensive training and experience in critical care, and working on the frontlines with severely ill COVID-19 patients. Claremore staff received valuable training on managing ventilated patients, prone therapy for ventilated and non-ventilated patients, as well as other COVID-19 related education. In addition, the team provided an on-site facility needs assessment, and assisted hospital staff with policy development and shared knowledge gain from working on the front lines of the pandemic.
The team has deployed to areas in the Indian Health Service system that have either experienced or are anticipating a surge in COVID-19 cases, including the Mississippi Band of Choctaw Indians, Choctaw Health Center in June and the Tohono O'odham Nation, Sells Indian Hospital in Arizona in July. The team has been deployed to the Crow/Northern Cheyenne Hospital in Montana since August 24 and will be heading to the Great Plains Area IHS on September 21.
The staff at Claremore Indian Hospital are extremely grateful for the opportunity to host the team and to take advantage of this valuable learning opportunity. As we look to recovery from COVID-19, the CCRT will continue to be an important resource to the IHS and the communities we serve.
Related Content
Critical Care Response Team Will Further Enhance Patient Care Across the Indian Health Service
Indian Health Service - Coronavirus Disease 2019
Four IHS hospitals complete Baby-Friendly re-designation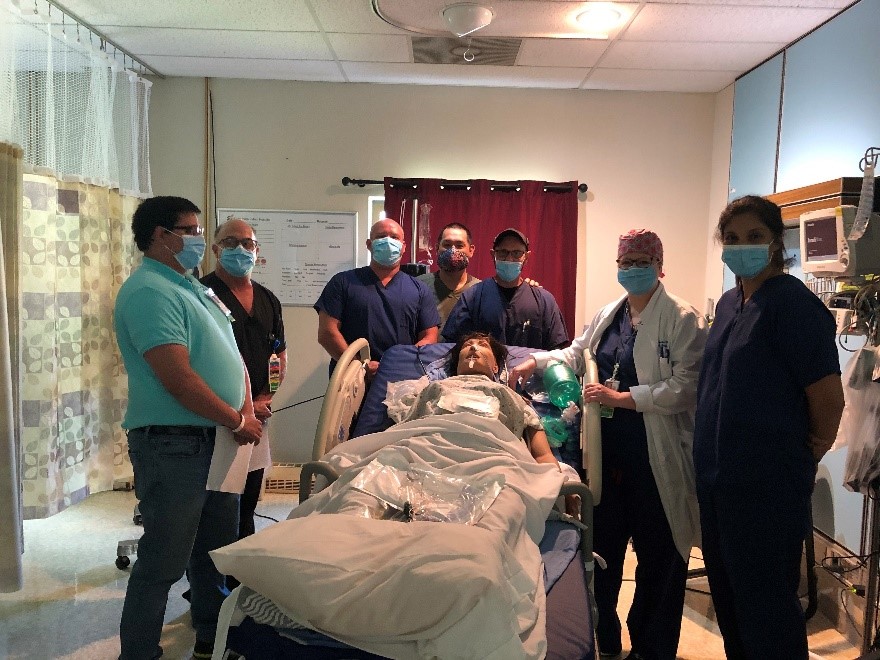 Claremore staff and members of the CCRT conduct training with a patient simulation mannequin at the Claremore Indian Health Hospital.