Today, I was honored to testify before the United States Senate Committee on Indian Affairs at the Oversight Hearing on Native Youth: Promoting Diabetes Prevention Through Healthy Living Exit Disclaimer: You Are Leaving www.ihs.gov .
Diabetes is an important topic for Indian Country, for our families and communities, and for the Indian Health Service. It's a complex, costly and chronic disease. Diabetes can cause many complications, including kidney damage. Many of us have relatives or friends who require dialysis for diabetes-related, end-stage kidney disease and must travel long distances to a dialysis center several times a week.
Diabetes is leveling off among adults in Indian Country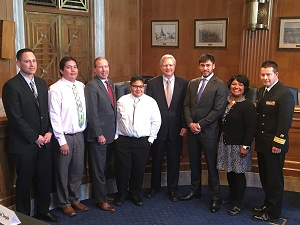 As I testified, the latest data show a leveling off of diabetes in Native America. The proportion of American Indian adults who have diabetes is no longer increasing, and we are seeing big changes in treatment of complications of diabetes, too. According to the January 2017 Centers for Disease Control and Prevention Vital Signs report Exit Disclaimer: You Are Leaving www.ihs.gov , new cases of diabetes-related kidney failure decreased dramatically -- 54 percent -- among American Indian and Alaska Native adults from 1996 to 2013, a much larger decline than in any other racial group in the United States.
American Indian youth and diabetes
There is good news for the health of youth, as well. Although the proportion of American Indian youth ages 10 to 19 who have type 2 diabetes is higher than in other racial/ethnic groups, the prevalence for American Indian youth in this age group did not increase from 2001 to 2009. Obesity among youth, an important risk factor for diabetes, also seems to be leveling off.
Partnerships to address diabetes in Indian Country
Our partnerships with Tribes, Tribal organizations and Urban Indian Health Programs are central to our mission. If we're all pulling in the same direction, we will make more progress.
Several key partnerships contributed to this significant and ongoing progress, including the Special Diabetes Program for Indians, or SDPI. The IHS also funds obesity prevention at Boys & Girls Clubs in Indian Country through a cooperative agreement with the National Congress of American Indians. And, IHS has a Memorandum of Understanding with Johns Hopkins University's Center for American Indian Health to promote implementation of their evidence-based Family Spirit home visiting intervention. The IHS Division of Diabetes Treatment and Prevention develops, documents and sustains the IHS clinical and public health efforts to treat and prevent diabetes in American Indians and Alaska Natives.
Although it takes many years to turn around an epidemic like diabetes, this is happening in American Indian communities, with significant improvements in childhood obesity, diabetes prevalence, and diabetes-related kidney failure. I look forward to continuing to work with partners and communities to ensure the health of our Native youth and families.
RADM Chris Buchanan, an enrolled member of the Seminole Nation of Oklahoma and a graduate of the University of North Carolina at Chapel Hill, serves as Acting Director of the Indian Health Service.
Related Content:
Health publications about diabetes
Diabetes Prevention Program teaches healthy lifestyle changes
Save the Date: 2017 Diabetes in Indian Country Conference